Taiwan's president is beginning a tour of the United States and Central America, a visit meant to show her self-governing island has allies as she faces a growing threat from China.
Taiwan was carefully gauging President Tsai Ing-wen's stops in the United States and, as always, forgoing any official meetings with top US leaders in Washington, in an effort to contain what China said would be a strong but but not yet specified.
Tsai arrived in New York on Wednesday and was scheduled to spend Thursday in the city, but few details of the trip were made public.
He addressed members of New York's Taiwanese community in a speech Wednesday night, thanking the United States for its security assistance and urging Taiwanese unity.
"The safer Taiwan is, the safer the world will be," he said, pledging that Taiwan will work with its democratic partners to stay on the path of democracy.
Pro-China protesters waving the Chinese flag protested against President Tsai Ing-wen's events in New York. A protester held a banner whose slogan declared the Taiwanese leader a «great traitor to China.»
China said it was closely watching his trip and would «resolutely safeguard our sovereignty and territorial integrity.»
On Thursday, Foreign Ministry spokesman Mao Ning reiterated Beijing's furious objections to any meeting between Tsai Ing-wen and US officials.
«China strongly opposes any form of official interaction between the United States and Taiwan,» Mao told reporters at a daily briefing. «China will continue to closely monitor the situation and resolutely safeguard our sovereignty and territorial integrity.»
China particularly warned that a meeting between Tsai and US House Speaker Kevin McCarthy, a California Republican, would bring a strong but unspecified response.
Neither Tsai nor McCarthy have formally confirmed a meeting. Tsai is scheduled to transit in Los Angeles on April 5.
Taiwan is an important partner for Washington in the Indo-Pacific and a major recipient of US military aid. The US, Taiwan and their allies in the region are increasing their military readiness with the aim of deterring or defending against any future military action by China, which claims the island as its own.
Last August, Beijing responded to then-House Speaker Nancy Pelosi's visit to Taiwan by launching missiles, deploying warships across the midline of the Taiwan Strait and simulating a blockade of the island. China has also temporarily suspended dialogue with the US on climate and other important issues and restricted military-to-military communication with the Pentagon.
Tsai has made six trips to the US during her presidency, meeting with members of Congress and members of the Taiwanese diaspora. Officials in her administration stress that her upcoming trip, which Taiwan calls a «transit,» is in line with what she and her predecessors have done in the past.
Tsai's «transit is consistent with our longstanding unofficial relationship with Taiwan and is consistent with the United States' one-China policy, which remains unchanged,» the national security spokesman for the United States told reporters on Wednesday. White House, John Kirby.
«The PRC should not use this transit as a pretext to escalate any aggressive activity around the Taiwan Strait,» Kirby said. "The United States and China have differences when it comes to Taiwan. But we've managed those differences for more than 40 years.»
Tsai told reporters before boarding her plane for the United States that «Taiwan will resolutely safeguard the values ​​of freedom and democracy.»
«External pressure will not obstruct our resolve to engage with the world,» he said.
Tsai is expected to meet with the president of the American Institute in Taiwan, Laura Rosenberger. AIT is the US government-run non-profit organization that conducts unofficial relations with Taiwan.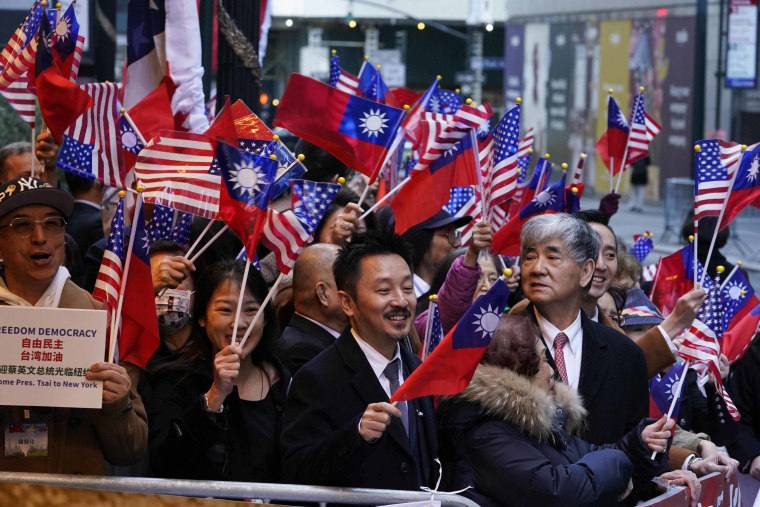 Their stops in Central America are expected to bolster Taiwan's partnerships there, after Honduras this month switched diplomatic relations from Taiwan to China. Tsai accused China of using «dollar diplomacy» to woo Honduras. Only 13 countries now officially recognize Taiwan.
Republican Rep. Mike Gallagher of Wisconsin, chairman of the House Select Committee on China, said the visit is an opportunity for Tsai to «convey to Congress how important the US-Taiwan partnership is, and what is needed.» to preserve peace and peace." stability across the Taiwan Strait.
Xu, the Chinese diplomat in Washington, accused Taiwan and the United States of harboring other targets for her trip.
«It must be clear to everyone that the so-called transit is simply a disguise for their true intention to seek breakthrough and defend Taiwan's independence,» he said.
Tensions between Washington and Beijing have risen as China under President Xi Jinping seeks to expand its regional and global influence. The passage of what the US said was a Chinese spy balloon across the US this winter heightened the Americans' sense of defiance from China. China says it was an investigative balloon gone off course.